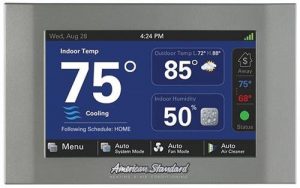 Everyone wants their home to be comfortable. Sometimes there are battles between family members over where the thermostat should be set. While we can't solve inter-family battles over the temperature setting within your home, we can offer some advice about how to keep your home more comfortable and at the same time, and save you money on your energy bill.
Programmable Thermostats are the Rage
Programmable thermostats seem to be the rage these days and with good cause. A programmable thermostat can be set to have the temperature in your home where you want it when you want it without having to manually adjust the setting. Programmable thermostats have been shown to reduce energy bills by up to 30%. Say you leave for your office or place of employment every morning at 7:30. Your home was warm all night (or cool, depending on the season). You forget to re-set the thermostat so your HVAC system doesn't run all day. Long story short, you've just paid to keep your home comfortable all day long, and no one was home.
Programmable thermostats keep these wasteful days from occurring. Once it's set, your system will run less when you're gone and have your home comfortable when you return. It can even be set to allow for vacation away-time.
WiFi Thermostats Are Even More Efficient
WiFi thermostats work even more efficiently. With a WiFi thermostat, you are able to control the temperature in your home from anywhere in the world, as long as you have internet access. Imagine monitoring the temperature in multi-rooms of your home, all from your smartphone or tablet. If you forget to reset your thermostat or for some reason, need to adjust it, you can take care of it via the app on your phone or tablet.
Contact Us
Legacy Heating and Cooling has only one goal in mind: to keep you and your family as comfortable as possible. Installing a programmable or WiFi thermostat can go a long way in providing you peace of mind knowing your system is operating as efficiently as possible.  Legacy Heating and Cooling is a licensed and insured HVAC contractor serving Tuscaloosa, Northport and West Alabama.