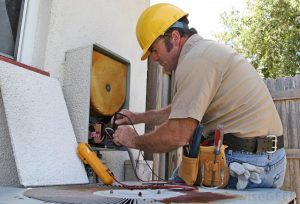 Your home's heating and air conditioning system is usually something you don't ever think about unless something goes wrong. When you set your thermostat, you expect your system to respond and either cool or warm your home without you giving it another thought. If you have a programmable or WiFi thermostat, you don't even have to worry about setting your thermostat on a daily basis. And then, one day, your system just quits working.
Avoid an HVAC Shutdown
Could a system shutdown be avoided by simply having a routine HVAC maintenence plan in place? Generally speaking, yes.
Your home's comfort system is most likely the largest investment you have in your home, other than the physical structure it's self. And yet a large number of us do not keep our system maintained on a regular basis. Imagine for a moment if you failed to maintain your automobile. You never change the oil. You never have your tires checked. You never have your brakes checked. Before too long, you might have to replace your engine, costing you thousands of dollars versus the price of an oil change or two.
HVAC Maintenence Will Save You Money
The same can be said regarding the routine maintenence of your HVAC system. A licensed HVAC technician can spot minor problems before they become major issues. Keeping your home's HVAC system in tip-top running condition will not only prolong the life of your system, it will cause your system to operate as it was designed to. Optimal operation of your HVAC system will save you money on your energy bills.
So yes, basic HVAC maintenence will save you money. Legacy Heating and Cooling can create a maintenance plan for you to insure you get the best performance and the longest life from your system.
Contact Legacy HVAC
Legacy Heating and Cooling is a licensed and insured HVAC contractor serving the West Alabama area. For more information, please email us at [email protected].