Short Spring Break Trip Ideas for Tuscaloosa Residents
Spring break is approaching, and it's time to decide what you'll be doing! If you're looking for a short and easy spring break trip, or are thinking about staying home this year to relax, read our favorite activities to help you start planning. 

Orange Beach, AL
Orange Beach is a great place to get away for spring break. In only a few hours you'll be out of Tuscaloosa and relaxing on a beach! This area of Alabama is filled with charming towns that are known for their amazing restaurants, nightlife and of course, beautiful beaches. You can spend all your days relaxing, however Orange Beach is home to a variety of kid-friendly activities that your entire family can enjoy. Gulf State Park has a nature center for the kids to learn, picnic tables to enjoy some time in the shade, a swimming pool, and kayaking and canoeing at Lake Shelby. Adventure Island amusement park has a variety of rides, indoor golf, go karts, and more fun activities for you to explore. For a more relaxed day, the Coastal Arts Center of Orange Beach offers art classes and access to the art galleries, which are filled with watercolor, pottery, paintings, photography, sculpture, textiles and more. You can even bring a picnic and take in the scenic views while you're there.

Birmingham, AL
Birmingham is home to so many fun activities, historical sights, and amazing culture, and it's only an hour away! If you're looking for a short, easy, and entertaining spring break trip this could be the perfect location. Experience an Alabama Symphony Orchestra performance, which you can catch throughout April, check out the Birmingham Museum of Art, or visit the Vulcan Park and Museum to enjoy a variety of exhibits and events. There's always something for the whole family to do in Alabama's largest city.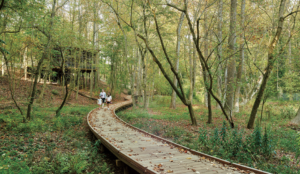 Atlanta, GA
Atlanta is a great place to go to explore a new city and really give you and your family a break from everyday life. Atlanta has so many locations and opportunities to shop, explore, and experience culture. For young kids, there are lots of immersive activities that the whole family can enjoy. Take a walk through Wildwoods at Fernbank forest to experience interactive exhibits in the nature tours, see art exhibits at the Nature Gallery, and observe the native plants and flowers surrounding the park as your tour. The Atlanta Fair also stretches through April and is a fun way to spend a day with the family going on rides, playing interactive games, and of course eating yummy fair foods. If you choose to have a more mellow day, visit Ponce City Market and Lenox Square to have a great shopping trip in some of the world's best malls!
Staycation
You could opt for a staycation instead of taking a trip! Enjoy the comfort and quiet of your home and take advantage of the time to completely relax. In our previous blog, we've got some great ideas for how to enjoy your time at home if you decide not to travel. As always, the best part of a staycation is having a comfortable house to stay in! Instead of getting your suitcase ready for a trip, get your home ready for a staycation by scheduling maintenance on your heating, cooling, and air purification systems. 
Contact Us
If you need any maintenance on your home HVAC systems be sure to contact Legacy Heating & Cooling! We are one of West Alabama's best heating and cooling contractors, and above all we are committed to providing you with the highest quality comfort HVAC systems. No matter the season or the sport we are here to help provide your home with anything you need. Call us today at 205-364-1044 or visit our website!
Be sure to follow us on Facebook and Instagram! spring break trip ideas Tuscaloosa HVAC spring break trip ideas Tuscaloosa HVAC spring break trip ideas Tuscaloosa HVAC spring break trip ideas Tuscaloosa HVAC spring break trip ideas Tuscaloosa HVAC