The weather is cooling down and we're beginning to turn on our heating systems, light our fall candles, and get the fireplace going. Heating our homes is a natural part of our lives in the winter, however, without following safety precautions, your home and your family could be in danger. Keep them safe this year by following these fire prevention tips for heating your home safely this fall and winter.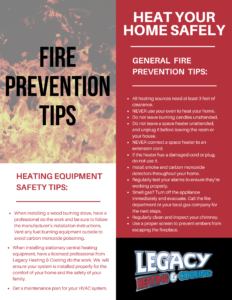 General Heating Safety Tips
All heating sources (fireplaces, cooking equipment, space heaters, candles, and your furnace) need at least 3 feet of clearance.

NEVER use your oven to heat your home.

Do not leave burning candles unattended. 

Do not leave a space heater unattended, and unplug it before leaving the room or your house.

NEVER connect a space heater to an extension cord.

If the heater has a damaged cord or plug, do not use it.

Install smoke and carbon monoxide detectors throughout your home. Regularly test your alarms to ensure they're working properly.

Smell gas? Turn off the appliance immediately and evacuate. Call the fire department or your local gas company for the next steps.

Regularly clean and inspect your chimney. Use a proper screen to prevent embers from escaping the fireplace and finding their way into your home.
Heating Equipment Safety Tips
When installing a wood burning stove, have a professional do the work and be sure to follow the manufacturer's installation instructions. Be sure to vent any fuel burning equipment outside to avoid carbon monoxide poisoning. 

When installing stationary central heating equipment, have a licensed professional from

Legacy Heating & Cooling

do the work. We're trained on installation methods for local codes and will ensure your system is installed properly for the comfort of your home and the safety of your family.

Get a

maintenance plan

for your HVAC system.

Our maintenance plans

make sure your system runs smoothly throughout every season and ensures increased efficiency and prolonged system life to save you money.
Learn More
For more information about preparing your home for winter, or more helpful tips for your home and family, visit our website at https://legacyhvac.net/. If you need advice about your home's comfort system, or give us a call at (205) 364-1044.
Legacy Heating & Cooling is your local American Standard Heating & Air Conditioning Customer Care Dealer in Tuscaloosa, AL. Be sure to visit us on Facebook and Instagram!